The cost of renewable energy continues to fall. In most cases, it's now cheaper to use renewables than fossil fuels.
$23 billion could be wiped off global bills if we switched from costly coal to renewables.
Power industry experts say the switch to renewables is now unstoppable.
Renewable energy is not only cheaper than fossil fuels, but it's undercutting them without subsidy – and is now the default choice for new electricity generation.
Renewables already account for almost 30% of global electricity output, according to the International Energy Agency. The IEA says the pandemic has slowed the roll-out of renewables and has called on governments to accelerate the transition to green energy after COVID-19.
Reducing the world's energy bills
IRENA says $23 billion could be wiped off the world's energy bills if the costliest 500 gigawatts of coal-generating plant was replaced by solar and wind power. While switching generation from fossil fuels to renewables would reduce global CO2 emissions by 5%, it says.
The renewable energy revolution
He says there are three factors that mean renewables will continue to grow: public environmental concerns; falling renewable energy costs; and the fact the technologies are now available to make the renewable energy revolution happen.
Moving to clean energy is key to combating climate change, yet in the past five years, the energy transition has stagnated.
Energy consumption and production contribute to two-thirds of global emissions, and 81% of the global energy system is still based on fossil fuels, the same percentage as 30 years ago. Plus, improvements in the energy intensity of the global economy (the amount of energy used per unit of economic activity) are slowing. In 2018 energy intensity improved by 1.2%, the slowest rate since 2010.
Effective policies, private-sector action and public-private cooperation are needed to create a more inclusive, sustainable, affordable and secure global energy system.
Benchmarking progress is essential to a successful transition. The World Economic Forum's Energy Transition Index, which ranks 115 economies on how well they balance energy security and access with environmental sustainability and affordability, shows that the biggest challenge facing energy transition is the lack of readiness among the world's largest emitters, including US, China, India and Russia. The 10 countries that score the highest in terms of readiness account for only 2.6% of global annual emissions.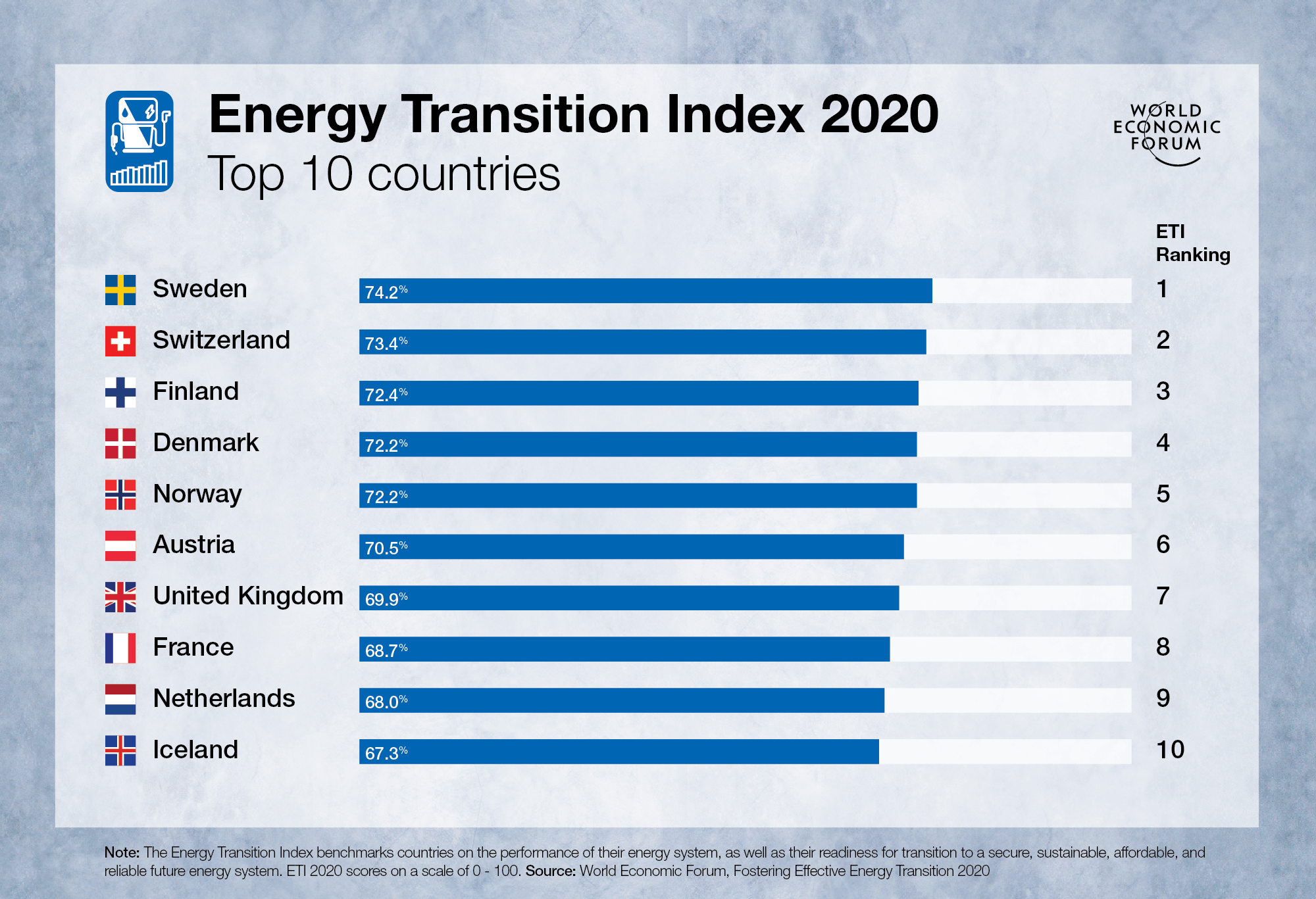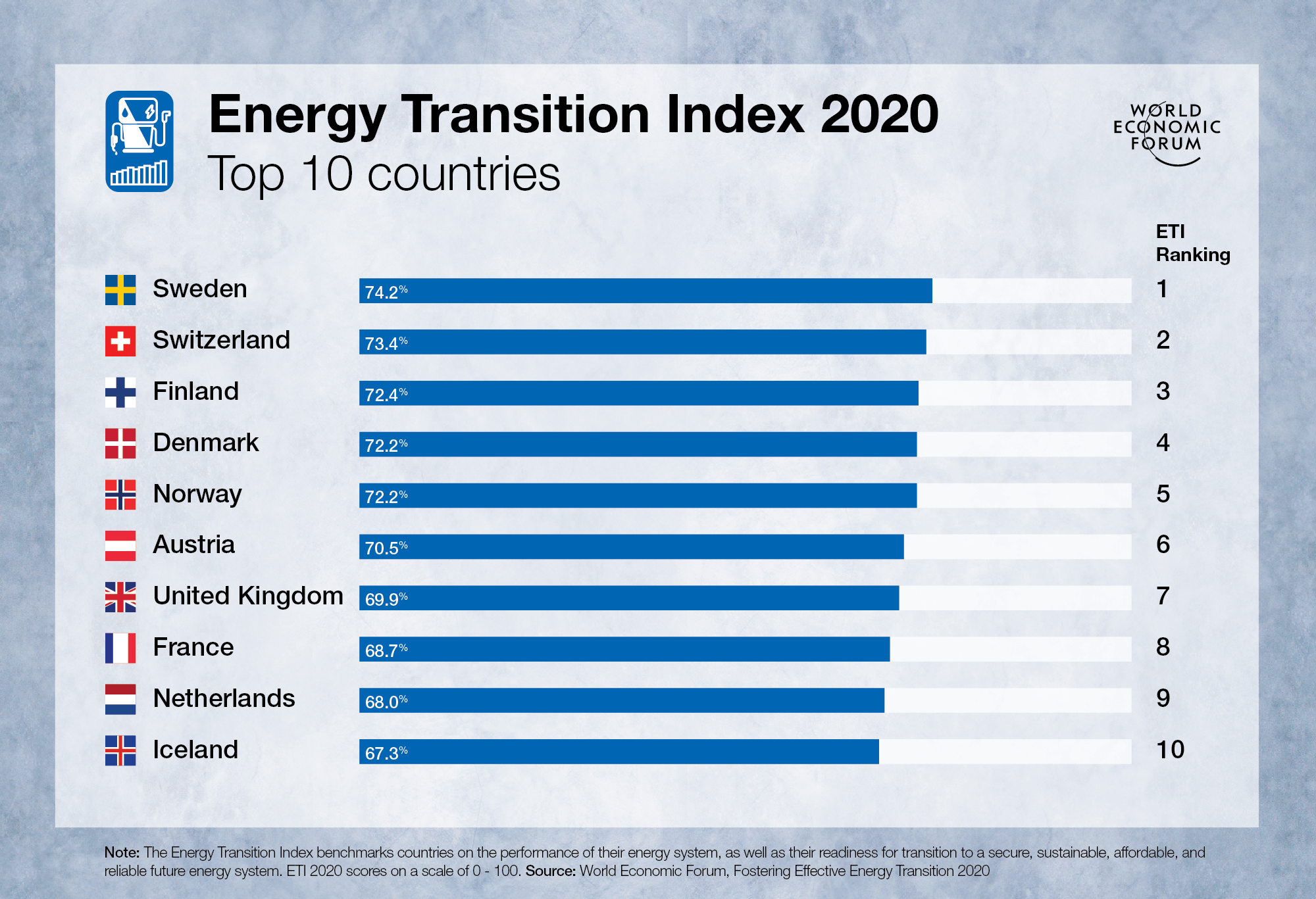 Additionally, the Mission Possible Platform (MPP) is working to assemble public and private partners to further the industry transition to set heavy industry and mobility sectors on the pathway towards net-zero emissions. MPP is an initiative created by the World Economic Forum and the Energy Transitions Commission.
Is your organisation interested in working with the World Economic Forum? Find out more here.
"If there is one constant in today's grid landscape, it is the clear expansion of renewable power. And based on the three strong and stable drivers, this isn't going to change any time soon," he adds.
On World Environment Day this year, the United Nations launched the Race to Zero, a global campaign to mobilize leadership and support from businesses, cities, regions and investors for a zero-carbon recovery and to accelerate action to reduce harmful climate-change emissions.
The World Economic Forum is hosting the Race to Zero Dialogues from 10 to 12 November, which will bring together business and public sector leaders to discuss ways of making a zero-carbon future a reality.